Find Your New Favorite Routine With Luta Livre!
Here at Legion Jiu Jitsu, we strive to teach our students how to be adept at both Gi and No Gi training. We offer world-class training in both styles of Jiu-Jitsu and welcome you to be a part of whichever class suits your needs! In our Luta Livre No Gi training, we practice all of the same techniques but without the traditional clothing, making a new form of Jiu-Jitsu that makes you rely on your body rather than your grips. We welcome people of all skill levels from all over Murfreesboro, Gallatin, and beyond to give our No Gi Jiu-Jitsu a try!
Fill out the short form on your screen to learn more today!
Traditional Training With A Modern Appeal
We know that Jiu-Jitsu is easily applied to real world situations, and we understand why you would want to learn how to defend yourself against someone not wearing the traditional Gi. Since Luta Livre No Gi Jiu-Jitsu is practiced in more streamline clothing, you can't rely on the grips in Gi Jiu-Jitsu routines. Training without a Gi helps you focus more on the other tenets like clinches, sweeps, and footlocks.
Check out Legion Jiu Jitsu to enjoy:
A friendly environment focused on helping you achieve your goals
Intense workouts that develop real-world skills
The science of leverage and how you can use it to your advantage
Heightened self-confidence with every new achievement
History of Luta Livre
Circa 1920's Euclydes "Tatu" Hatem joined the Clube ACM in Rio de Janeiro, where he began to train and dedicate himself to the sport that he believed to be the ideal of his life, Catch Wrestling. Tatu became a professional and champion, adding victories through the ages, touring the world's platforms, and defeating everyone who came in front of him, taking down the undefeated and champions from around the world.

Luta Livre, in its early days, was largely assumed to be an art "for poor kids who could not afford a Gi." since the athletes did not wear the traditional Gi. Luta Livre focused on teaching the poor who were primarily of African descent. This was opposed to Brazilian jiu-jitsu which was thought to focus on teaching the upper class, primarily of lighter skin. The battles between the two arts were essentially class warfare. Luta Livre and BJJ were considered to be rivals. When Euclides Perreria beat Carlson Gracie, the rivalry continued for decades.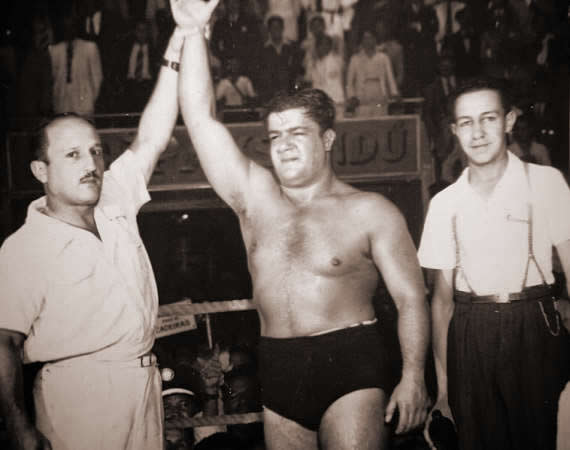 By the 1980s, Gracie Jiu-Jitsu had become very popular in Brazil and Luta Livre representatives wanted to help popularize their art by accepting challenges from Brazilian jiu-jitsu champions in Vale Tudo and Submission matches. Luta Livre continued on with many famous fights in and out of the ring.
Today, Luta Livre thrives here at Legion with your Instructors and the International Federation of Luta Livre Submission.
Get Ahead Of The Competition
If you're interested in competing, you need to take every opportunity to master your skill! Training in Luta Livre No Gi Jiu-Jitsu can open up new arenas for you in competition by honing your skills both in and out of the Gi. By being able to practice differently, you'll be able to react to any situation you face. Plus, you'll get a GREAT workout as No Gi training tends to rely heavily on slips, holds, and leverage.
We also offer No Gi competition training for those interested in proving themselves in a public arena. We offer several weekly competition training sessions to work around your busy schedule and keep you prepared for the next tournament. Many of our students compete in tournaments as large as Worlds and Pans Championships!
No Gi Jiu-Jitsu training can help you:
Perfect your ground techniques
Learn new situational advantages
Gain another path to competition
Burn calories and build lean muscle tone
Don't Miss Out On What Legion Jiu Jitsu Can Offer!
We love our No Gi Jiu-Jitsu program, Luta Livre because it brings in familiar techniques and applies them in afaster paced setting. With all of the benefits it provides, it's no wonder that people from all over Murfreesboro, Blackman, and beyond are already enjoying our family oriented approach!
Fill out the short form on your screen to learn more today!
Our No Gi Jiu Jitsu Classes Are Located In
Murfreesboro
Hendersonville
East Nashville