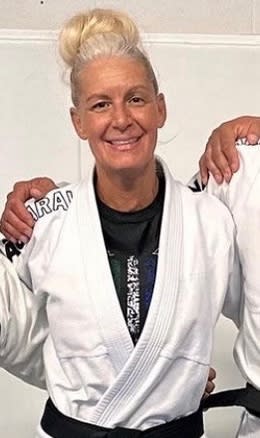 Professor Dawn Lowery
I'm originally from South Florida, where both myself and my spouse started training Brazilian Jiu Jitsu under Master Toco Albuquerque. We moved to Murfreesboro TN in 2017 and continued our Jiu Jitsu journey with Professor Gabriel Rial which we have both earned our Black Belts under. I have been the Head Women's Instructor since 2022 and currently a Professor for all level classes.
Jiu Jitsu has been my outlet for many years, I love the beauty of the art and how its energy and teachings transfer into everyday life. I love coaching and seeing those around me fall in love with the art, to watch them learn a new technique is one thing but to watch them learn about themselves is the best feeling. The art, the sport has a way of opening your eyes and pushing you through your comfort zones all while teaching you self-defense. The Jiu Jitsu community is huge and welcoming and I have been blessed to have such an amazing Jiu Jitsu family. Outside of Jiu Jitsu, I am a mother to some awesome children, along with being a Certified Personal Trainer, Certified Nutritionist, and Yoga Instructor.